The Birmingham branch of Stor-a-File is in a strategic location less than a 40 minute drive from Birmingham city centre, perfectly placed to provide businesses in Birmingham and the surrounding areas with professional document handling services.
Document Storage
If over 40 years in document handling has taught us anything, it's that no two companies share the same storage needs. Our wealth of experience with both public and private sector clients has enabled us to understand the needs of a huge range of industries, and work with you to provide the perfect solution for your business.
Businesses without adequate document management processes will find that their office spaces are cluttered with documents that are not required on a daily basis (but must be retained for legal reasons). This means only one thing; more time spent looking for important files, and less time getting the job done.
Offsite document storage allows you to keep all your legally required documents in a secure location, ready to retrieve whenever you need them. You can keep track of your documents using our detailed database, and when their retention dates are due to expire, decide whether you want to keep them or avail of our confidential shredding services.
Offsite document storage will save you valuable time and office space, and drastically increase the organisation of your essential documents. We also offer secure media storage, archive storage and backup tape storage. Contact us today to find out how we can make your business more efficient.
Document Scanning
Countless companies across the UK are now digitising their files and going paperless, but why? As well as saving space, digital documents are hugely valuable in increasing the efficiency of your business. Digital documents can be shared quickly to different sites, and can be viewed by multiple staff at once, saving you time and money.
Losing important documents will become a thing of the past - you can be sure that your files are safe, secure, and ready when you need them.
It doesn't matter what sort of document you need to convert; we make use of features like advanced capture and recognition technologies to extract the information you need, no matter what the format is. Your scanned documents will become well structured digital information, ready to be shared within your business.
Your scanning needs are important to us, which is why we'll work with you to create a bespoke solution that caters perfectly to your business. The project will be entirely customised to fit around the specific needs of your own internal systems, as well as any auditing obligations. This allows us to offer a flexible plan that fits within your budget and timescales.
When your digital files are ready, they will be easily accessible to you through various methods, including STFP, FTP, online hosting, or encrypted storage media.
Contact us online or call our customer service team to organise a free consultation or visit to a Stor-a-File site, and find out how we can make your business more efficient.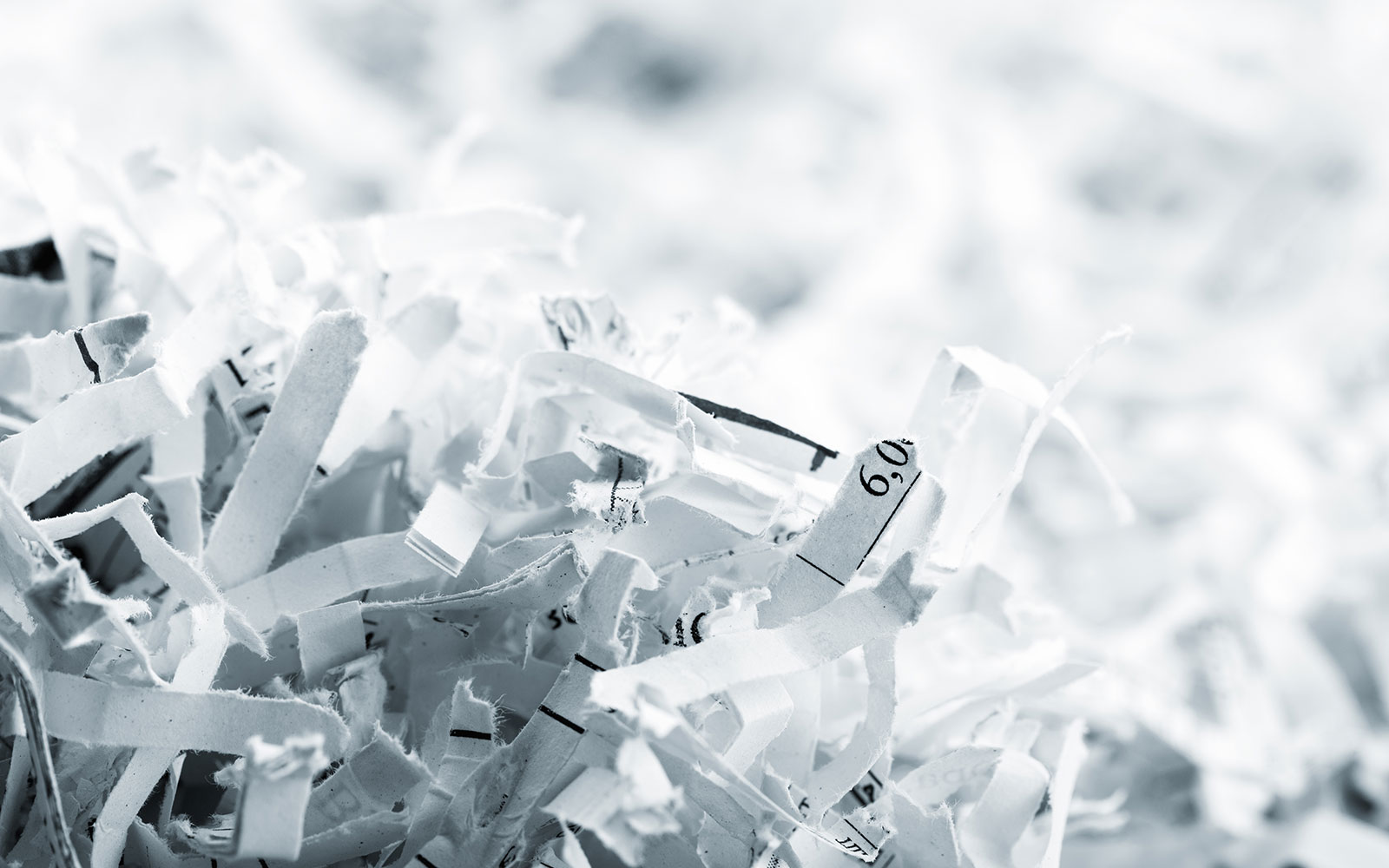 Document Shredding
If your business routinely handles sensitive information, you may find that you require confidential destruction of documents. Your document destruction processes need to be efficient, within budget, and most importantly, in-line with GDPR regulations. Stor-a-File is proud to provide a service which incorporates all three of these key elements.
Our five step document shredding services begin with an assessment of your needs. Our document handling experts will find the most secure and cost-effective way to collect your confidential waste.
Our DBS-checked, referenced, and uniformed staff will then securely transport your documents in our alarmed vehicles with GPS tracking.
When the documents reach your Stor-a-File site, they will be scanned into the shredding bay and checked for quality. Then, they will be loaded into the shredding area where our industrial shredders cross-cut them to the relevant standard.
Your waste will be mixed and baled, and the bales will then be recycled. Not only do you have the comfort of knowing your items have been disposed of to the highest standard, but you have the satisfaction of knowing they have been destroyed in an environmentally friendly manner.
Make sure you get in touch to find out more about our document shredding services.
Birmingham Site
Location is key in document handling, and our Birmingham site is ideally placed to allow us to work closely with companies in the city centre as well as the surrounding areas. Located less than a 40 minute drive from central Birmingham, we can supply a fast, friendly, and efficient service to any local businesses.
Being based on the outskirts of Birmingham but not directly within the city centre gives us a distinct advantage in document handling. We're close enough to get your files to you quickly in an emergency, but not so close that we may be affected by the same issues afflicting your premises. 
This means that in the case of a power outage or a natural disaster, you know that your essential data is safe with us, ready for you to retrieve.
We have provided our service to many prominent clients in the Birmingham area. If you're a local business owner and want to find out how our document handling services can help you, give us a call and one of our experts will have all the information you need.