With our secure shredding service complying to the strictest standards and regulations, we safely shred, bale and recycle tonnes of confidential waste paper every day.
Confidential Shredding
With tightening legal requirements, escalating concerns about identity theft and reputations at stake, there is an increased awareness of and demand for the need to permanently destroy sensitive material. Organisations therefore need to know that their documents will be confidentially destroyed within agreed timeframes to the required standards.
We have worked with confidential data for over 40 years to provide our clients with a reliable, secure and environmentally-friendly service. Our services are trusted by a number of organisations, including the legal profession, local and central government and the NHS. Confidential destruction is achieved in-house using a dual industrial shredder and baler system, which is capable of shredding up to four tonnes of confidential waste per hour.
Our shredding process consists of five steps. Firstly, our trained staff assess the most secure, effective and cost-effective way to collect your confidential waste. Our DBS-checked, referenced and uniformed staff then securely collect your documents in GPS tracked, alarmed vehicles.
Next, your items are delivered to one of our sites where they are scanned into the shredding bay, quality checked and loaded into the shredding area. The industrial shredder cross cuts paper to the relevant standards, and this waste is then mixed and baled. The bales are then recycled.
High Standards
We understand how important it is for you to be confident that your sensitive data is being handled, transferred and destroyed by experienced staff, on secure premises, according to strict procedures and standards. This is why we comply with the BS EN 15713:2009 Secure Destruction Of Confidential Material standard.
It means that we dispose of your confidential waste in a secure and controlled manner and that our process is regulated by continual external audits. It minimises risk and reassures that we work to a recognised specialist standard. It can also help you with your corporate social responsibility, as the standard encourages recycling.
Recycling is an important part of our ethos here at Stor-a-File. We have deliberately integrated a number of environmentally-friendly policies and practices into the course of our operations, from using recycled storage boxes and monitoring the fuel consumption of our vehicle fleet to planting trees for every 100 boxes we store.
We also apply this green mentality to our shredding practices. Once your documents have been shredded, they are baled. Rather than simply burning or sending this waste to landfill, however, we instead work with some of the UK's leading paper mills to ensure that the waste is recycled into products such as tissue paper.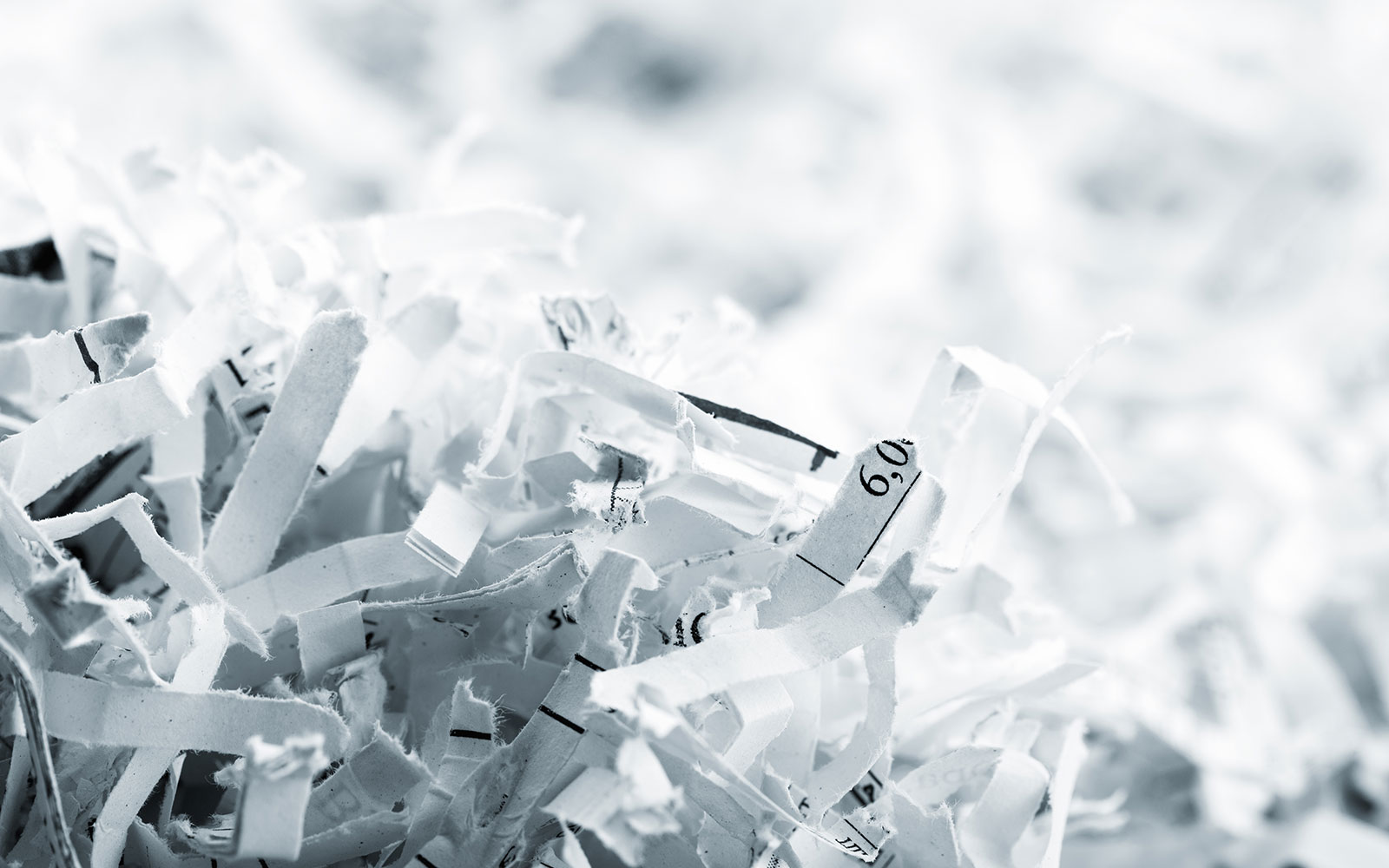 Shredding Solutions
Various flexible solutions are available depending on the needs of your organisation. Everything from collection to shredding is done in-house by our experienced and security-checked team, so we can guarantee not only competitive pricing and professional service, but complete security.
If you are in the process of clearing out out of date documents during an annual clean up, then Ad Hoc shredding is an ideal solution. We simply arrange a suitable time to come and collect your waste paper to take it to be confidentially shredded. To help you with this process, we can provide you with heavy duty sacks and trackable tags in order to create a full audit trail.
If you require more regular collections of confidential waste, then we can offer you a variety of container solutions suited to a range of working environments. This includes locked consoles and 240L or 1100L locked bins that can be located at key points in your office and are ideal for regular office shredding.
These solutions are perfectly suited to weekly or monthly collections and can be picked up according to a schedule that suits you. All containers are uniquely tracked to each customer and a destruction certificate is issued to you after each pick up has been shredded.
Collection & Delivery
We want to make the process of getting your confidential documents shredded as easy and secure as possible, which is why we offer a fully managed end-to-end process. We collect your files in tracked bags or containers at a pre-organised time that is convenient for you.
We then index, shred, bale and recycle your confidential waste and issue a destruction certificate to you once the shredding is complete. Our customer service team prides itself on providing fast and efficient service, and our driving team is ever-growing to keep up with demand.
To ensure that your documents are secure at all times, we implement strict transport and uniform and badge policies. Collection is conducted by security checked personnel who are clearly identifiable by their branded uniforms and identification badges. All documents will be transported in crates and boxes carrying the Stor-a-File name and logo.
Your files are transported by our fleet of vehicles. Each vehicle is kept locked at all times and is fitted with an alarm and immobiliser. For additional security and monitoring purposes, all vehicles are also tracked via Verilocation GPS and drivers have hands free mobile phones. Each vehicle also has emergency AA cover.