Based less than 15 minutes from Nottingham city centre, Stor-a-file Nottingham is perfectly situated to supply expert document handling services to companies in the city and surrounding areas.
Document Storage
We understand that no two businesses have the same storage needs, and our experience with both public and private sector clients enables us to appreciate the challenges of document management for a wide range of industries and requirements.
Without efficient document management processes in place, documents that are not required on a daily basis (but need to be retained for legal or administrative reasons) can clutter your office space, and make it more difficult for you to find the files you need.
With offsite document storage, you can keep all the documents that you legally require in a safe and secure location, easily accessible whenever you need them.
Our detailed database helps you keep track of your documents and when their retention dates will expire, so that you can decide whether to keep them, or make use of our confidential shredding services.
As well as secure document storage, we also offer backup tape storage, archive storage and secure media storage. Not only does offsite document storage increase the organisation and security of your important documents, but it also frees up space and saves valuable time for your staff. So, what are you waiting for? Contact us today to find out how we can make your business more efficient.
Document Scanning
Many companies in the UK and beyond are now going paperless; moving away from the bulky documents of the past to new, digitised formats. Digital documents allow businesses to share information more quickly and across different sites, and can even be viewed by multiple staff members at once, making your business more efficient. Digital documents cannot be easily misplaced like their paper counterparts, so you can have peace of mind that your files are secure, exactly where you need them.
Taking advantage of features like advanced capture and recognition technologies, our document scanning services can extract the information you need from any document, regardless of the format or content. No matter what kind of document you are looking to convert, we can scan it and flawlessly transform the original document in to well structured digital information.
With your business' specific requirements in mind, we craft a bespoke scanning solution that caters to your exact needs; customising the project to your own internal systems and auditing obligations. This means that we have the flexibility to offer a solution that works within your budget and timescales. Once we have scanned your documents, our storage is accessible to you through a number of methods, including SFTP, FTP, online hosting and encrypted storage media.
To find out how our scanning services can increase the efficiency of your office, contact us online or give our customer service team a call to organise a free consultation.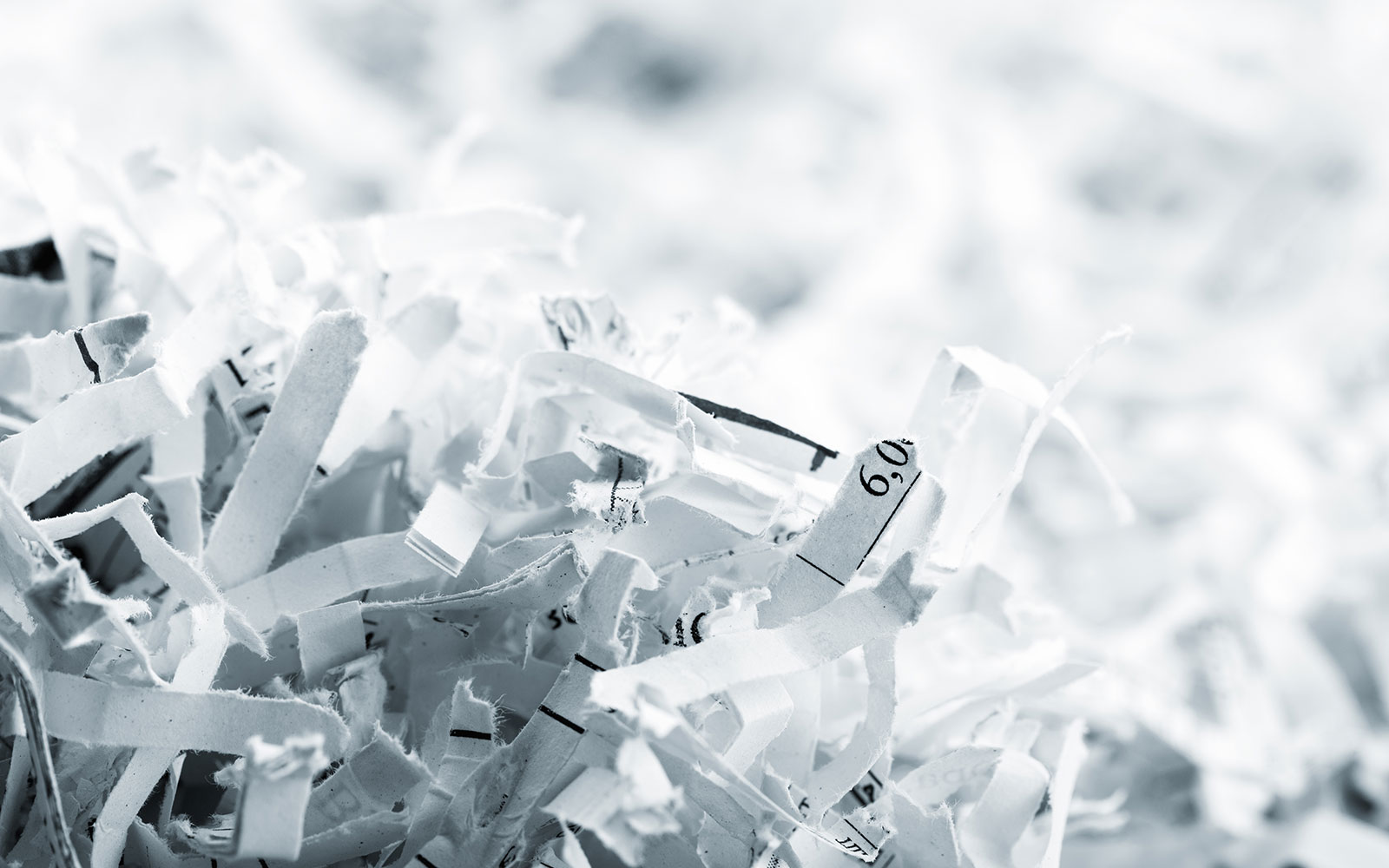 Document Shredding
Businesses that regularly handle sensitive client information often require confidential destruction of documents. It is imperative that your document destruction processes are GDPR compliant, as well as being effective and within your budget.
At Stor-a-File, we take pride in providing a confidential and professional service that covers all these key elements.
Our shredding service consists of a five step process. Firstly, our highly trained staff will assess the most secure and cost-effective way to collect your confidential waste. Your documents are then collected by our DBS-checked, referenced and uniformed staff, to be securely transported in alarmed vehicles with GPS tracking.
Next, your items are delivered to a Stor-a-File site where they are scanned into the shredding bay, checked for quality and loaded in to the shredding area. Our industrial shredders cross cut paper to the relevant standards, the waste is then mixed and baled, and the bales are recycled.
This allows you and your business to have total peace of mind; not only have your documents been handled and destroyed to the highest standard, but they are also disposed of in an environmentally friendly way.
Do you have some documents that you need to destroy? Don't hesitate to get in touch for more information about our document shredding services.
Nottingham Site
Having a site based near to Nottingham city centre enables us to work very closely with companies in the Nottinghamshire area. Less than a 15 minute drive from the city centre, our Nottingham site is ideally situated to allow us to supply our services quickly and efficiently to local businesses.
Having our site positioned close to Nottingham, but not directly within the city centre, means we can provide much shorter delivery times to our clients. This means you can quickly retrieve emergency documents, and quickly store the files you need to prevent loss of essential data.
Our distance from our clients not only increases our delivery speed, but means that we are unlikely to be afflicted by any natural or technological issues that may affect your business. Office flooded? Power lines down? No problem, we'll have your backed up documents with you shortly.
We have worked with a number of prestigious clients within Nottingham and the surrounding areas, so if you own a business locally, why not give us a call and see how your company can benefit from our local document storage services?